Chain posts spread like wildfire across Facebook from time to time, especially posts that claim to affect Facebook itself. Past chain posts have claimed to stop Facebook from charging users or from using their data. Neither post did anything, and both referenced alleged changes that weren't actually happening.
The latest chain post to spread across the social media app claims to clean your news feed of ads.
Update-- this morning my entire feed was ads. After i did this all i see is my people again. Im not sure how it works, but it did??
To regain friends in your news feed and get rid of ads - Hold your finger anywhere in this post and click ′copy'. Go to your page where it says 'What's on your mind?' Tap your finger anywhere in the blank field. Click paste. This upgrades the system.
Hello new and old friends!🥰
It's sad we have to keep doing this to kill the Ads and see our friends
VERIFY readers asked if the chain message's claims were true.
THE QUESTION
Will posting a chain message clear your Facebook feed of ads?
THE SOURCES
THE ANSWER
No, posting a chain message will not clear your Facebook feed of ads.
WHAT WE FOUND
There is no way to prevent advertisements from appearing in your feed. Additionally, posting a status to your profile has never changed your Facebook settings.
AVG, a cybersecurity company, says you would have to use some kind of third-party ad blocking tool if you wanted to remove all ads from Facebook. These typically block ads across the internet, and will occasionally miss some ads.
You can adjust the ad settings on your Facebook account, but this will only change the data advertisers see and collect from you. It won't change the total number of ads you see, but it can let you see less ads about certain topics. It will also allow you to hide ads from certain advertisers.
While we can't VERIFY what individual news feeds look like, Hootsuite, a social media marketing company, says Facebook's 2023 algorithm prioritizes these three things in your news feed.
Content from sources you interact with, including friends and businesses. Those are more likely to appear at the top of your news feed.

The types of posts you interact with most. So you'll see more videos if you engage with videos most often, and you'll see more photos if you regularly interact with photos.

Posts with lots of engagement, especially from people you interact with a lot. Those will be prioritized over posts without much engagement.
But Hootsuite notes there's still a way to bring some of your friends back to the top of your feed if their posts are buried for whatever reason: Favorites.
How you find this setting depends on the device you're using. If you're on a computer, you'll click your profile picture at the top right of your screen, click on Settings & Privacy, then click on Feed, then Favorites. If you're on an iPhone and looking at your news feed, you can tap Menu at the bottom right of your screen, then tap Feeds and then Favorites.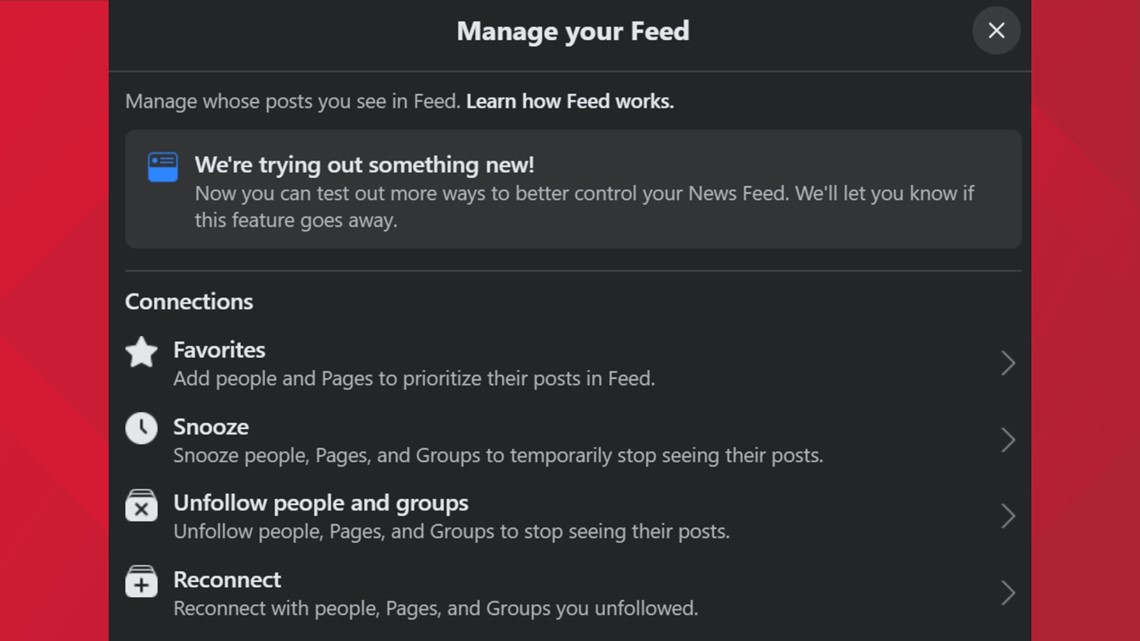 Favorites will allow you to select up to 30 friends and pages to prioritize on your news feed so you see their newest posts before you see any others.
"When you add friends and Pages to your Favorites on Facebook, their posts will be shown higher in your Feed. You'll see the newest posts first," a Facebook Help Center page explains. "You can manage Favorites at any time. Friends and Pages won't be notified if you add or remove them. You aren't able to add groups to Favorites."