Former President Donald Trump recently called for his supporters to protest after he said he may be arrested in New York for allegedly making hush money payments to adult film actress Stormy Daniels, who claims she had an affair with him.
Trump had predicted the indictment would come on Tuesday, March 21, and many media outlets are now reporting it may happen on Wednesday, March 22.
On March 20, a video was posted to Twitter and TikTok, claiming to show a large crowd gathering in front of Trump Tower in New York City. The video has more than 35,000 views.
"JUST IN: Americans begin to show up at Trump Tower in New York to express support for Former President Trump's rumored arrest," the tweet with the video said.
Many of the comments on the video questioned if it really does show the crowd of protesters in March 2023.
THE QUESTION
Does this video show a crowd of protesters in New York in March 2023?
THE SOURCES
THE ANSWER
No, this video does not show a crowd of protesters in New York in March 2023. The video is from 2020.
WHAT WE FOUND
The video wasn't taken in March 2023, as the social media posts claim. It's actually from October 2020 when Trump supporters caravanned from Long Island to New York City to cheer on the former president, who had just announced he tested positive for COVID-19.
VERIFY was able to confirm the video is three years old using video and photo forensics tools. VERIFY first used InVid to split the video into individual keyframes. We then used RevEye to conduct a reverse image search of each frame in the video.
At 15 seconds into the video, a man can be seen wrapped in a Trump 2020 flag. That same man, standing on top of the same vehicle, wrapped in the same flag, can be seen in a photo published by the New York Post on October 4, 2020.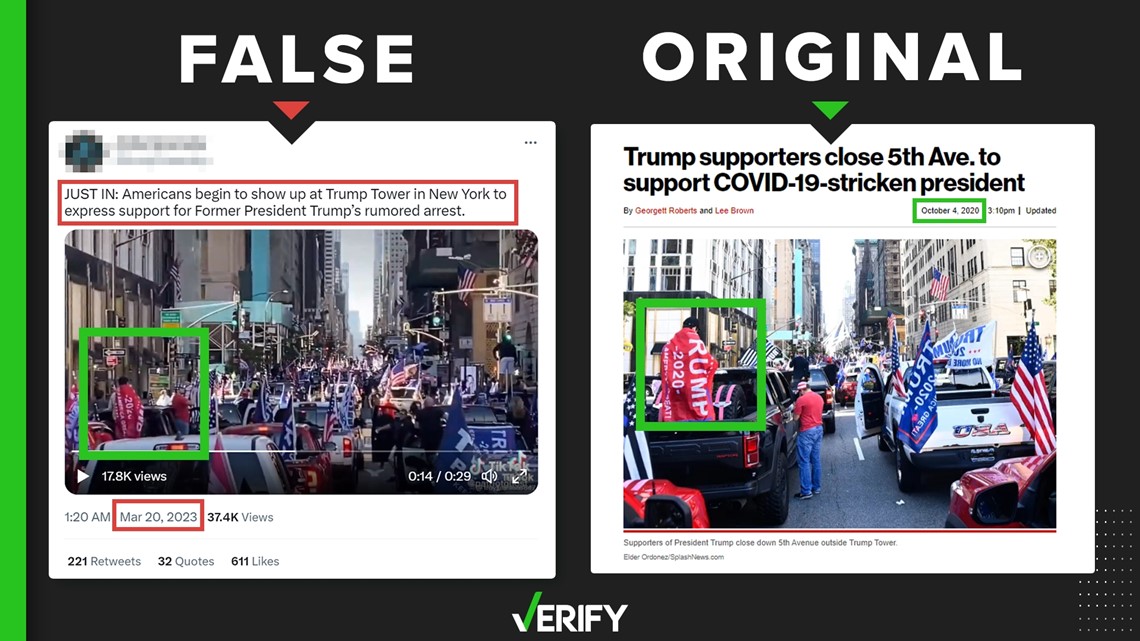 According to that report, the caravan of supporters drove from Long Island and stayed parked in front of Trump Tower that afternoon.
Shawn Farash, a New York-based community organizer, replied to accounts that shared the video, also confirming the video isn't from March 2023.
"This is not Sunday 3/19," one reply said. "This was October 4th 2020. How do I know? Because my organization put this rally together," Farash wrote.
In another tweet, Farash wrote: "Anyone who sees video of a rally outside of Trump Tower, know that it is NOT HAPPENING TODAY. It is OLD VIDEO from a rally that my organization put together on OCTOBER 4TH 2020."
VERIFY reached out to Farash directly for comment and did not hear back at the time of publication.
To provide further evidence the video is dated, a bus passing through the crowd in the video had an advertisement for The Comey Rule, a Showtime mini-series that ran in 2020.