Summer is here and that means your family might go swimming in lakes or rivers to beat the heat.
THE QUESTION
Is some blue-green algae toxic to pets?
THE SOURCES
THE ANSWER
Yes, some blue-green algae is toxic to pets.
WHAT WE FOUND
Cyanobacteria, more commonly known as blue-green algae, can be found in fresh and salt water around the world.
According to the Washington State Department of Health (DOH), "a combination of warm temperatures, sunlight and nutrient-rich waters" can cause blue-green algae to "bloom." These blooms, which are most common in the summer and early fall, usually float to the surface and are several inches thick near the shoreline.
Though most blue-green algae blooms are not harmful, some produce toxins that can make humans and animals sick.
People who are exposed to toxins from blue-green algae may experience stomach pain, vomiting, diarrhea, headache, fever, tiredness, irritation of the skin, eyes, nose or throat, and neurological symptoms such as muscle weakness or dizziness, the CDC says.
Blue-green algae blooms often look like green paint or pea soup floating on the water, according to the Washington DOH and Minnesota PCA. They can also appear bluish, brownish or reddish green.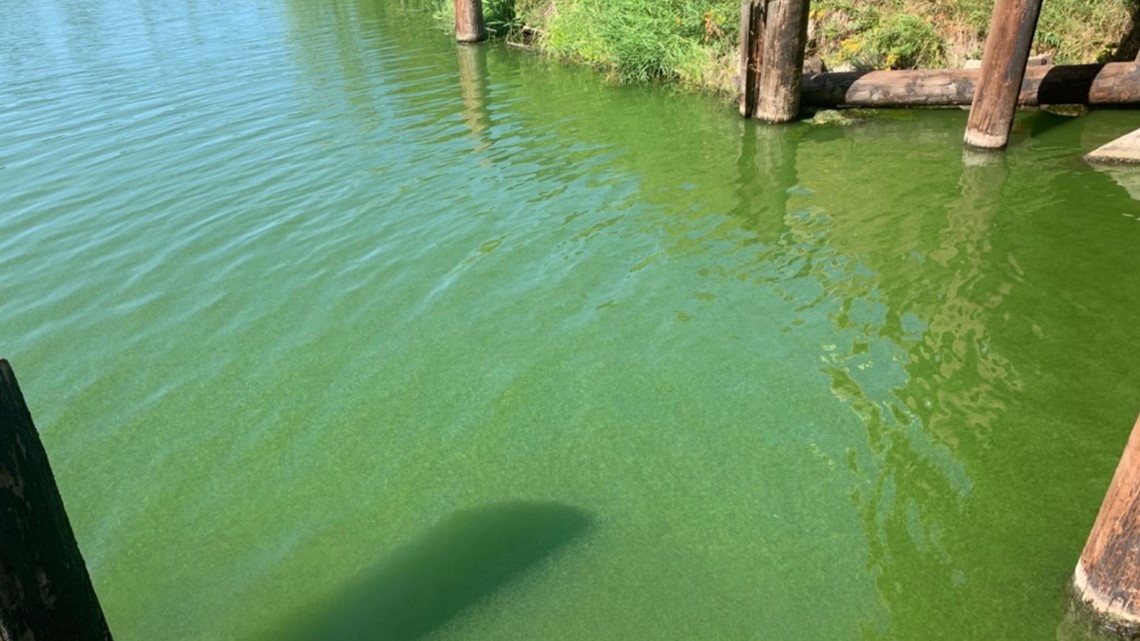 It's impossible to tell whether a bloom contains toxins just by looking at it. That means all blue-green algae blooms "should be considered toxic until proven otherwise," VCA Animal Hospitals says.
The best way to protect your pets from blue-green algae poisoning is to be vigilant.
Don't allow pets to drink from stagnant ponds, lakes or other bodies of water that have bluish-green scum on the surface or around the edges. In addition, if your pet goes for a swim, make sure to rinse them thoroughly with clean water afterward.
Many public health departments also test the water frequently in areas that are known to have blue-green algae blooms and will post signs when there is a problem, the ASPCA says.
The signs of blue-green algae poisoning in pets depend on the type of toxin ingested, but they can include:
Seizures
Excessive drooling or tearing
Difficulty breathing
Disorientation
Weakness or inability to walk
Paralysis
Jaundice (yellow tint to the gums and skin)
Pale gums
Vomiting
Diarrhea
Lethargy
Lack of appetite
You should seek immediate medical attention if you believe your pet has been exposed to toxins.