A Manhattan grand jury has been meeting behind closed doors for several days to decide whether former President Donald Trump should be indicted for allegedly making hush money payments to adult film star Stormy Daniels, who claims she had an affair with him.
On March 23, the panel was dismissed for the rest of the week. According to sources close to the investigation, the panel won't meet again until the week of March 27.
After it was announced the jury would not be meeting for several days to discuss the investigation or hear witness testimony, a video appearing to show Manhattan District Attorney Alvin Bragg went viral. Bragg is overseeing the investigation into this case.
In the video, which has been viewed more than a million times on Twitter, Bragg appears to be saying that his office has dropped all charges against Trump. He continues to appear to talk about his own "deteriorating mental health" caused allegedly by the "stress of the case" and the "relentless attack and bullying" by pro-Trump podcaster Jack Posobiec.
THE QUESTION
Is the video of Manhattan District Attorney Alvin Bragg saying Trump's charges were dropped real?
THE SOURCES
Statement from Donald J. Trump
THE ANSWER
No, the video isn't real. The video is a deepfake.
WHAT WE FOUND
Manhattan District Attorney Alvin Bragg did not announce he was dropping any charges against former President Donald Trump. Trump hasn't been formally charged with any crime in Bragg's district; the grand jury still hasn't made a decision on whether to indict.
The viral video was originally posted by Jack Posobiec, a conservative commentator and Turning Point USA (TPUSA) contributor. In his tweet, Posobiec wrote, "BREAKING: DA Alvin Bragg's precreated speech from next week dropping all charges on Donald J. Trump has been released."
The fake video of Bragg was created using this video posted to the Manhattan district attorney's YouTube account. The video was from an event with New York University's School of Law in January 2022.
In both the fake video and the original video, Bragg is wearing the same outfit, he's sitting in the same position and the flags to his left and right are the same. In the original video, Bragg doesn't mention Trump or an investigation. Instead, he talked about being newly elected and what policies he might implement. He also answered audience questions on various topics, including gun trafficking, hate crimes and racial disparities in criminal justice.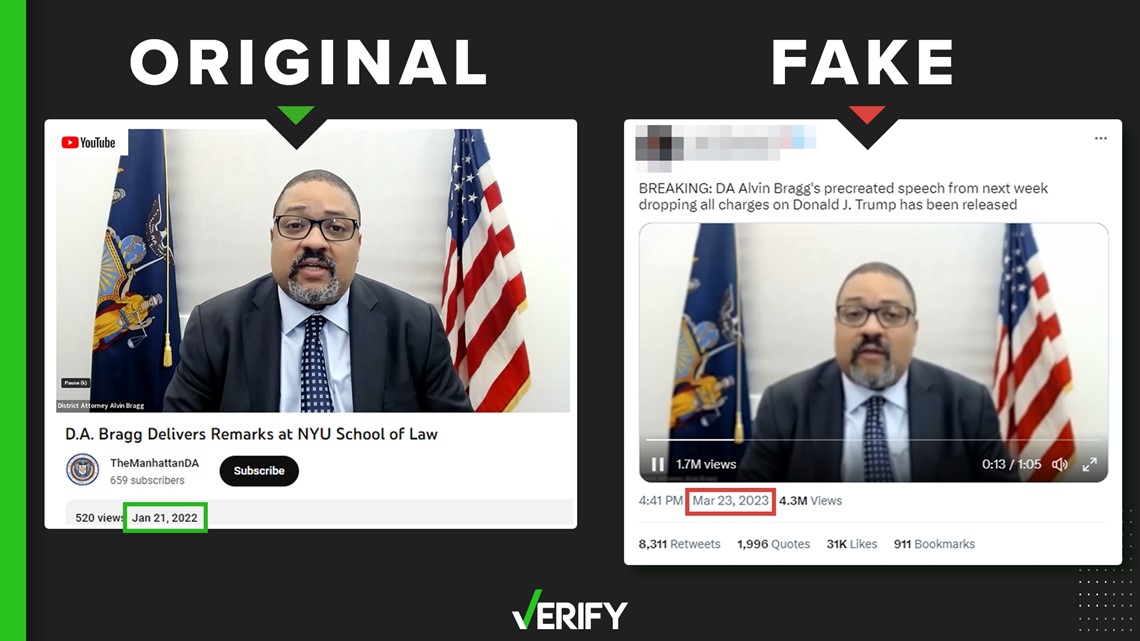 The audio from the original video was replaced with fake audio claiming to be of Bragg's voice. Because of this, the audio and lip movements seen in the video don't match.
In a newsletter sent to supporters on March 24, Trump also said the case had not been dropped against him. He called the investigation a "witch hunt" and wrote the Manhattan district attorney would "try and find any way he can to take me down."
VERIFY reached out to Bragg's office for comment but did not hear back at the time of publication.
This is not the first time Posobiec and his TPUSA team produced a deepfake video.
In early March, Posobiec's team of producers created a deepfake video claiming to show President Joe Biden announcing he was reinstating the U.S. military draft.
The Associated Press contributed to this report.